Discounts
You are here
Discounts are subject to change. Please check back often and take advantage of these offers.
Continuing Education, Educational Resources and Professional Development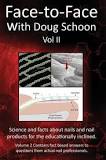 Face-to-Face with Doug Schoon
"Face-to-Face with Doug Schoon" is an exciting bi-monthly video series that focuses on nails, nail products and services. Schoon answers questions submitted by nail professionals worldwide, debunking common myths and misinformation by providing fact-based information straight from his many years of research. For monthly subscribers, archived episodes will be available for on-demand viewing. ANP members can subscribe to Face-to-Face with Doug Schoon at a special rate of $5.95 per month (or a one-time payment of $66 per year) (new subscribers only).

MiladyPro
Brought to you by one of the most trusted names in the industry for the last 90 years, MiladyPro is the premier destination for ongoing professional beauty education, providing a one-stop source that includes the latest trends, techniques and business skills for salon and spa professionals. Read through hundreds of articles, view complimentary training webinars, or shop in our online store where we offer reference books, continuing education courses, step-by-step tutorials, and much more!

NaturaLash
NaturaLash Eyelash Extension Training offers discounts on certification for ANP members, and free shipping on your first order and future product orders. NaturaLash was developed in 2005 by a registered nurse and licensed esthetician. Products are made with certified cosmetic grade adhesives.
*Please note: ANP members are not automatically covered for eyelash extension services. If you offer this service, just let us know (with proof of training), and we will be happy to add it to your coverage. Call 800-575-4642 to add coverage for eyelash extensions.

Oncology Spa Solutions
Oncology Spa Solutions now offers classes for nail spa professionals caring for oncology clients. Learn how cancer and its medical treatment affects your clients, and essential skills to personalize your spa treatments for cancer patients and survivors according to their current health and history. ANP members get a discount on certification training. Log in to the Member Section for discount access.
Health Insurance & Personal Wellness

Dental Benefits Max
Save on dental care with Dental Benefits Max, a complete nationwide dental plan utilizing Aetna Dental Access Network. Choose from more than 92,000 dentists and specialists. As a member you will save an average of 40 percent on all of your dental care—everything from cleanings, crowns, and root canals to braces and more. No waiting periods, no claim forms, and no restrictions for prior conditions. The plan also includes great savings on prescription drugs, vision, chiropractic care, and more at no additional cost.
As an ANP Member, you qualify for a special discounted Dental Benefits Max rate of $9.95 single and $12.95 family.
* can be combined with OnCall Doctor at a discounted price.

OnCall Doctor
The OnCall Doctor program gives you 24-7 phone access to board-certified, state-licensed physicians who can diagnose, recommend treatments, and call in prescriptions to your local pharmacy, saving time and allowing you to get help for non-emergency medical issues.

Salon & Spa Benefits
Salon & Spa Benefits provides 8 insurance options for owners, employees, renters and contractors. Anyone who is working in a salon, spa or wellness center, can apply for coverage. Simply select and customize your plan, and start your coverage today. Options include Health, Dental, Vision, Accident, Cancer, Critical Illness and Disability Insurance. Members receive special exceptions and discounted rates on certain plans. Ask about our #1 plan, Disability Insurance and start protecting your income today. This plan provides you with monthly income in the event of an illness, injury, surgery, maternity leave and pregnancy complications. Rates start at $4 a week.

VPI Pet Insurance
VPI Pet Insurance—ANP members can receive a 5 percent discount on pet health coverage. Use the veterinarian, specialist, or emergency provider of your choice. Save more when you enroll multiple pets. VPI offers a 10-day money-back guarantee.
Legal and Finance

Beneficial Capital
Beneficial Capital has comprehensive financing programs that have helped thousands of new and existing salon owners.  Members receive complimentary documentation and processing fees, a value of $275-$475, when they finance salon or spa equipment upgrades.

DreamSpring
Grow your small business with DreamSpring!
DreamSpring supports wellness and beauty professionals through capital and resources to grow vibrant small businesses. As a Community Development Financial Institution (CDFI), DreamSpring's mission is to increase access to business credit and provide loans that help entrepreneurs realize their dreams. At the intersection of compassion and capitalism, DreamSpring's work provides small business owners with tools for success while nurturing the economic vitality of bodywork, hair, skin, and nail professionals.

H&R Block
H&R Block is mindful of keeping you safe this tax season, so there are many ways to file! Your member offer includes:
$25 off professional tax prep (for new clients)
Free Tax Identity Shield (with professional tax prep) for prior/existing Clients
20% off H&R Block Online
Log in to the Members Section to access the coupon and complete terms and conditions. Offers are valid January 3 through April 10, 2022.
 

QuickBooks
Run your entire business with QuickBooks. Plus, ANP members receive a special offer. 
QuickBooks Online saves time by setting up recurring invoices.
Manage your cash flow better with easy bill management.
Reduce manual data entry errors by automatically downloading your bank and credit card transactions.
Access 40+ insightful built-in reports to understand the health of your business. 
Manage your business on the go by accessing QuickBooks Online anywhere/anytime via any device.
Double-checks as you go.
Office Equipment and Supplies

Dell Home PC
Dell offers Members Only best prices on any consumer PC, as well as Exclusive Members Only elite offers (up to 30% off list prices for select configurations of Dell consumer PCs). Don't forget to shop Dell's big selection of accessories and electronics featured at already terrific Dell Home and Home Office prices.

Vistaprint Printing Services
Create your own business cards, stationery, decals, magnets, rubber stamps, and more.
Practice Management and Marketing Tools

Beauty Pro Apps
Create your professionally built app! ANP Members save $250 off the initial build cost.
Constant Contact
Constant Contact provides easy, affordable email marketing services. Members receive 20% off when pre-paying for 6 months of service or 25% off when pre-paying for one year.

Lokalyst
Get your nail salon found on Google! As a trusted ANP Partner and Google Agency, Lokalyst specializes in getting nail professionals found in local Google searches. With Lokalyst, you'll gain Google exposure, get more targeted traffic, increase customer actions and drive new client appointments.

PocketSuite
PocketSuite is a mobile tool for nail professionals, helping you organize all your appointments, client information, and payments into a single app. PocketSuite's FREE features are available to all ANP members! ANP members get two months free on PocketSuite's Premium subscription. 

Spafinder
For a limited time, ANP members can try Spafinder's Enhanced listing for six months for only $2 per month (typically $79 per month). After that, members can continue receiving the benefits of this program at a reduced rate of $29 per month! This is a month-to-month program, and members can exit at any time.

Thegiftcardcafe.com Online Gift Certificates
Thegiftcardcafe.com lets business owners sell gift cards and gift certificates with a shopping cart link or button on your existing website. Members receive 50% off the set-up fee for the upgraded monthly subscription service, or 50% off other advertising solutions if you are already using another gift card service.
Your Lifestyle and Self-Care

Active&Fit Direct
Home or gym? We'll keep you active either way. For just $25/month, ANP members can choose from 11,000+ fitness centers with flexibility to change anytime. No long-term contract! Plus, more than 5,500 on-demand workout videos are accessible at home or on-the-go, and unlimited lifestyle coaching!

CorePower

ExpertVoice
Your membership with ANP has earned you an invitation to join ExpertVoice, an exclusive online community where you can receive discounts of up to 70% off on over 300 top brands, access unique brand content and take advantage of opportunities to try new products before anyone else. Why? Because these brands recognize you as an expert in your industry, which means you know more, do more and deserve more. 

FTD
FTD - Save 10% on gifts, floral arrangements, and plants delivered in the United States and Canada with a minimum order of $29.99, not including tax or service charges.

Pedestrian Shops
Pedestrian Shops offers ANP members a 15% discount for all shoes ordered online. Colorado-based Pedestrian Shops stocks the shoes you know and love including Dansko, Keen, Merrell, Vibram FiveFingers, Clarks, Chaco, Teva, Birkenstock, Wolky, Naot, and more. Valid only for online purchases.

Teatulia Organic Teas
ANP members receive an exclusive 15% discount when purchasing Teatulia Organic Teas at Teatulia.com. All tea is grown in a single USDA-certified organic garden in northern Bangladesh, one of the largest organic tea gardens in the world! All sales of Teatulia's Organic Teas contribute to their social mission: helping to better the lives of Bangladeshi men, women & children while rebuilding the local ecosystem.

Yogamere
Yogamere™ is a collection of exquisite essentials for yoga, meditation, fitness and relaxation that flow with your lifestyle.  Designed with naturally luxurious materials, sophisticated colors and an eye for the smallest detail, Yogamere is the belief that wellness can be beautiful.  
Home Utilities & Cell Phone Service

Verizon Wireless
Verizon Wireless - various monthly access discounts on service.
PPE and Sanitation

Noel Asmar Uniforms
Noel Asmar Uniforms now offers elegant, reusable face shields to complement its health and wellness uniform line. 
The Wellness Reusable Face Shield is a protective face shield to be worn during close contact treatments. A welcoming clear visor helps protect the wearer from liquid splashes and light particles and serves as additional protection and visual comfort for clients. The translucent, discrete frames minimize the impersonal nature of protective gear and are designed for all-day comfort. Please visit www.noelasmaruniforms.com or contact info@noelasmar.com for more information. AHP members use code ABMP5 at checkout to receive a 5% discount. Discount cannot be combined with any other promo codes.

Purafil Indoor Air Quality
ABMP/ASCP/AHP/ANP members receive a deep discount on Purafil's PuraShield 500 air purifying system designed to remove aerosols carrying harmful viruses and bacteria, odors, allergens, smoke, volatile organic compounds and toxic gases. Protect yourself and your clients by creating a healthier indoor air environment. Sign in to view your exclusive member discount.

Pure Pro Products
Pure Pro Hand Sanitizer is made with the World Health Organization formula. ANP members receive $10 off your first order of $40 or more.

VB Enviro Care
VB Enviro Care is creating healthier air quality with their AiroCide units, perfect for businesses and homes. AiroCide air disinfection devices are designed for rapid remediation in situations where infection risk is high, and provide continuous air disinfection, particle reduction, odor mitigation, and VOC control to restore and maintain indoor air quality. ABMP members receive 15% off any AiroCide unit!